Jeuveau
Spa Me Now offers the latest in anti-aging treatments with Jeuveau, a new generation of Botox that is more pure and safe than ever before. Get smoother, younger looking skin without the pain and expense of surgery.
Jeuveau
Spa Me Now offers the latest in anti-aging treatments with Jeuveau, a new generation of Botox that is more pure and safe than ever before. Get smoother, younger looking skin without the pain and expense of surgery.

Are you unhappy with the lines between your eyebrows? Have you tried smoothing them with various creams with unsatisfactory results? There is no need to carry them on your face forever. Jeuveau is here – the latest tox discovered by science to smooth frown lines.
No, this is not yet another one-time wonder, giving you five minutes of a smooth forehead, followed by disappointment. Jeuveau has proven its effectiveness in rigorous scientific tests, and we are excited for people to experience these results for themselves.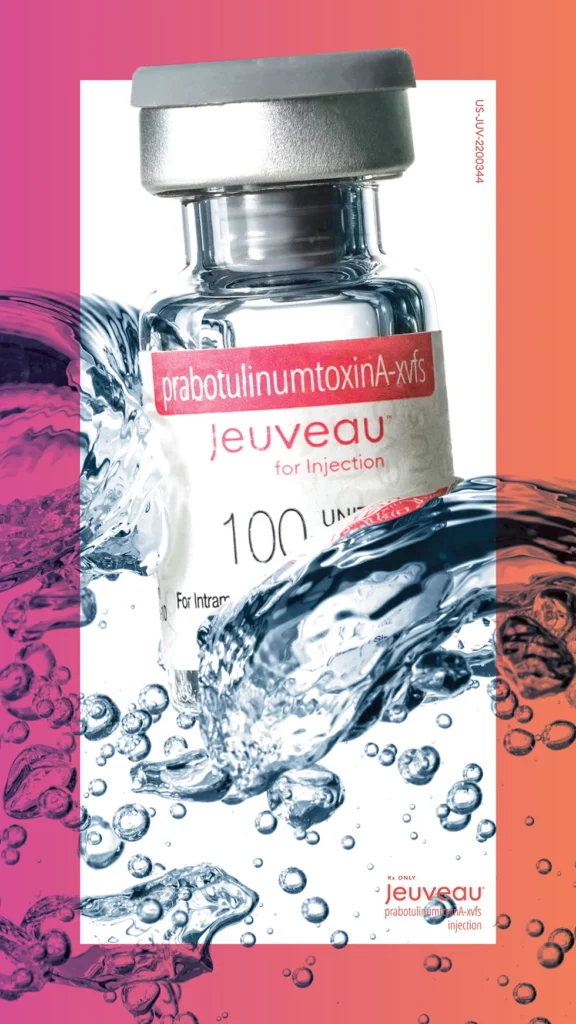 What is Jeuveau?
Jeuveau is an FDA approved prescription medicine that is injected directly into the muscles. Years of research and development in the cosmetology field have resulted in the innovative Hi-Pure Technology. While this technology has some similarities to Botox, it takes additional steps such as treatment to remove proteins and additional acid precipitation. These lead to a purer and safer product. As a matter of fact, tests have shown that twice as much Jeuveau was needed to produce an adverse reaction as Botox.
If you are wondering whether this is a one-time miracle, the answer is no. You can safely use Jeuveau over time, regaining the clear and smooth forehead you wish to present the world.
Do you need proof? Then look at the real life results over a period of time between two days and six months of using Jeuveau.
However, you should note that individual results vary, depending on various factors.
So, How Exactly Does Jeuveau Work?
The scientific name of Jeuveau is prabotulinumtoxinA-xvfs. It is basically a variant of the already known botulinum toxin.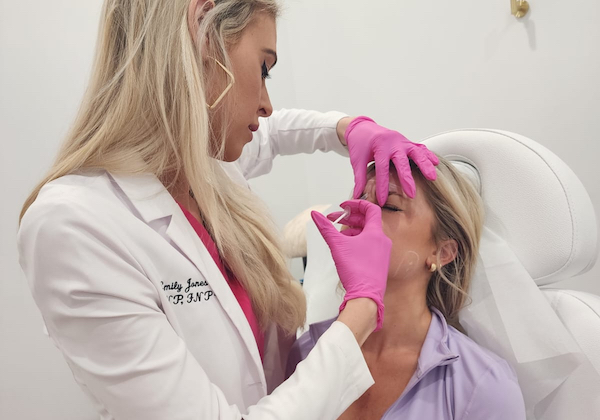 It temporarily stops the messages from the nerves telling your forehead muscles to flex.
Once your muscles are fully relaxed, the frown lines between your eyebrows disappear. As explained above, the effect is not permanent. Your body will eventually eliminate the tox. However, a new dose will restart the process of relaxing the muscles.
Can I Use Jeuveau at Home?
This innovative cosmetic treatment is a prescription medicine. It involves injecting the tox into your forehead muscle. This should be done only by a trained and licensed physician.
Also, the medical professional will have to assess at first whether you can safely receive a dose of Jeuveau.
Look younger today
Remove wrinkles in minutes with Jeuveau: The anti-aging solution
Precautions in Using Jeuveau
Before you receive the injection with Jeuveau, you need to tell your healthcare provider:
Whether you are allergic to the ingredients (botulinum toxin A and human serum albumin)
Whether you are pregnant or plan to become pregnant
Whether you are breastfeeding
Any medical conditions you are suffering from, especially diseases that affect the muscles and nerves.
Also, you should not receive the Jeuveau treatment if you suffer from a skin infection in the area where the healthcare provider should inject the tox.
Reasons to Choose Jeuveau Over Other Beauty Treatments
Moderate to severe frown lines are very stubborn. You know it, because you tried so many cosmetic procedures to get rid of them. You have already trusted the beauticians who promised to get you rid of them. But the results were always unsatisfactory.
The reason is that frown lines cannot be wiped away by creams. They are the result of the constant flexing of muscles. And this is not something you can control – despite various online tutorials showing you how to keep a neutral facial expression.
Are you considering the drastic solution of plastic surgery (the well known skin tucking procedure)? It may leave you with an unnatural expression of surprise (eyes wide open, raised eyebrows). Jeuveau will give you a natural look, free of frown lines.
Also, compared to other cosmetic procedures, Jeuveau is a minimally invasive procedure, which takes only 10 minutes.